Custom bags can be imprinted with your logo or message that will be seen repeatedly as customers use this again and again. They have multiple purposes and come in a variety of price points – so they are perfect for any business, no matter how small or large your budget.
At the low end of the spectrum is the plastic custom bag, which is what most grocery stores use today. These types of bags can start as lows as 10 cents per bag – making it a useful cost-effective marketing tool.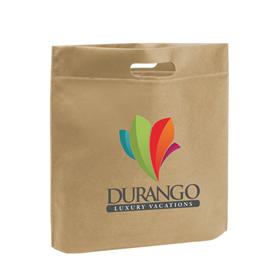 If you have a little more money in your marketing budget, you can purchase the follow type of bags.
Reusuable tote bags
Drawstring backpacks
Canvas and beach bags
Lunch and cooler bags
Messenger bags
These types of bags can be seen everywhere you look; through in your company logo and you, as well as everyon else, will begin to see it in the hands of potential customers. The cost ranges from $2 to $10 per bag. There are also high perceived value custom bags that get optimal exposure and include the following.
Backpacks
Laptop bags
Travel & duffel bags
Fitness & gym bags
Briefcases
These higher end bags can start at $30 and go higher but you will discover, as you increase the cost that the quality, exposure and visibility will increase as well.